Spring is finally here, and what better way to enjoy the warm Edmonton weather than by creating a luxurious outdoor space? By investing in your outdoor area's personalization and design, you can create a luxe living space that allows you to prolong the season or experience high-end outdoor living year-round. From cozy retreats to deluxe entertainment areas, a luxury outdoor living space will enhance your lifestyle while creating the unmatched sense of splendor you deserve.
If you've been thinking of elevating your outdoor living space this spring, here are eight key tips to consider:
1. Extend Your Space With a Pergola
A luxury pergola will elevate and increase your outdoor living space and provide advanced protection against the harsh Edmonton elements. An excellent escape from both rain and sun in the summer, high-end pergolas can be fully customized to provide additional protection against insects, snow, and more.
Keep in mind, your Edmonton pergola provider should offer solutions that can be specifically tailored to your home's existing architecture – including complimentary colours, materials and style. European-designed pergola products are top-rated due to their customization options, including:
Sun and wind-resistant screens
Crystal windows offering panoramic views
Sliding panels
Bespoke lighting
Outdoor heating and audio solutions (more on that below)
Infinite colour combinations
Decorative frames and ornamentations
Remote operated capabilities
And more!
2. Install a Patio or Terrace Cover
Luxury patio covers provide yet another avenue by which homeowners can spend more time outside while upgrading their existing space. Sturdy, Canadian-made patio and terrace covers offer superior wind, rain and sun protection compared to a traditional patio umbrella or awning.
Automated, retractable systems are also something to look for in a luxury patio or terrace cover, not just for convenience but as a means of reducing maintenance. Here too, your luxury provider should be able to customize your cover to your outdoor space while providing clean, modern, European design options free of intrusive joints and bulky materials.
3. Accent Your Space With Lighting
There are many reasons to incorporate landscape lighting into your outdoor space. For starters, lighting allows you to enjoy the outdoors long after the sun has gone down. It also adds an element of safety by deterring intruders while illuminating walkways, stairs, doorways and other obstacles.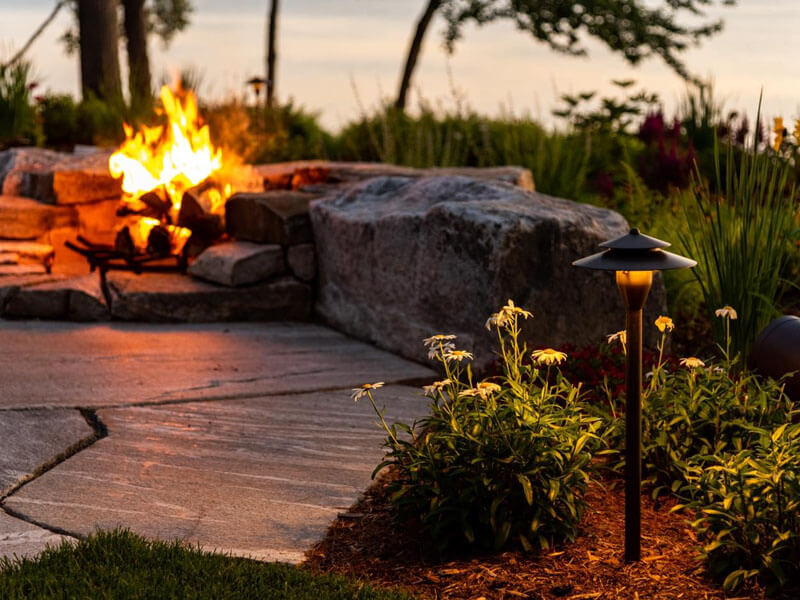 Landscape lighting plays a significant role in elevating the aesthetic of your luxury outdoor living space. For instance, linear and directional lights highlight your home's architecture, while pathway and tree lighting showcase your landscaping and garden. Of course, deck and wall lights are a must for adding warmth to any premium outdoor living area, especially when paired with a luxury pergola or patio cover.
4. Introduce Ambient Audio
Like lighting, landscape audio will instantly upgrade your outdoor space. Outdoor audio adds an element of sophistication while creating the ideal ambiance for any situation – whether it be a fun day in the sun or a quiet night under the stars.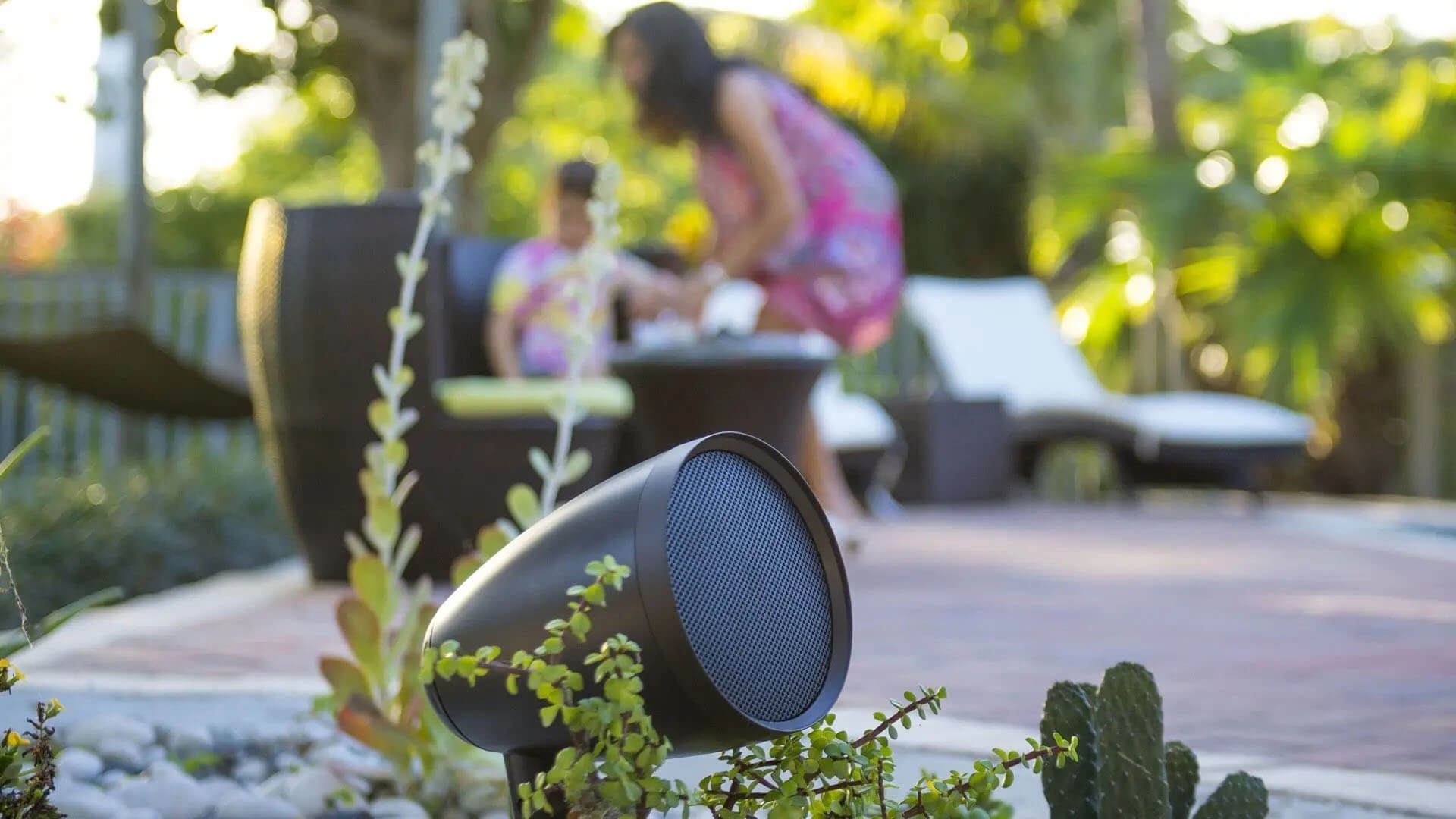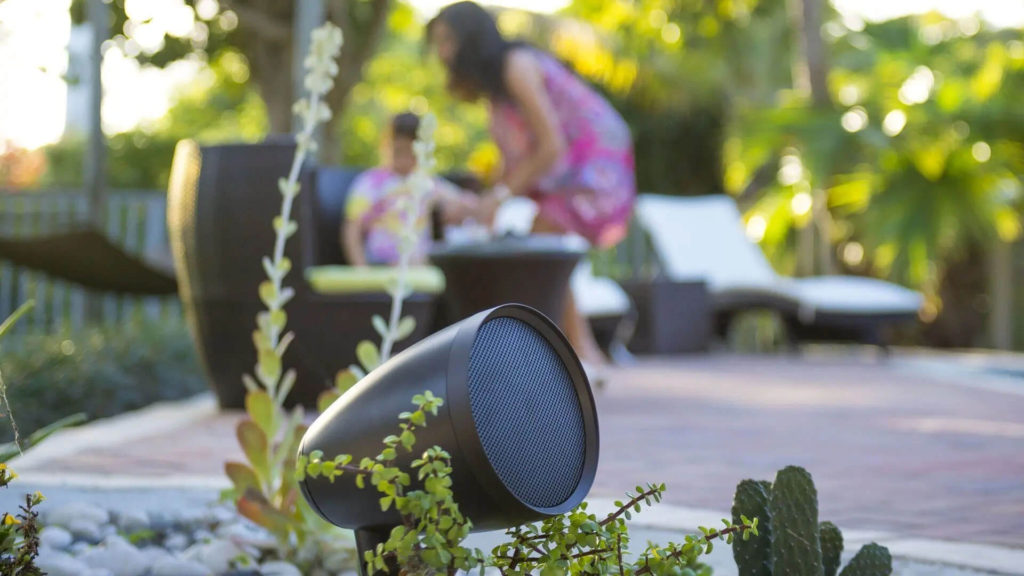 The perfect combination of form and function, Edmonton outdoor audio systems are both rugged and discreet. They can easily withstand the coldest (and wettest) temperatures and are known for their low-maintenance and low-profile qualities.
5. Ensure Privacy With Walls or Screens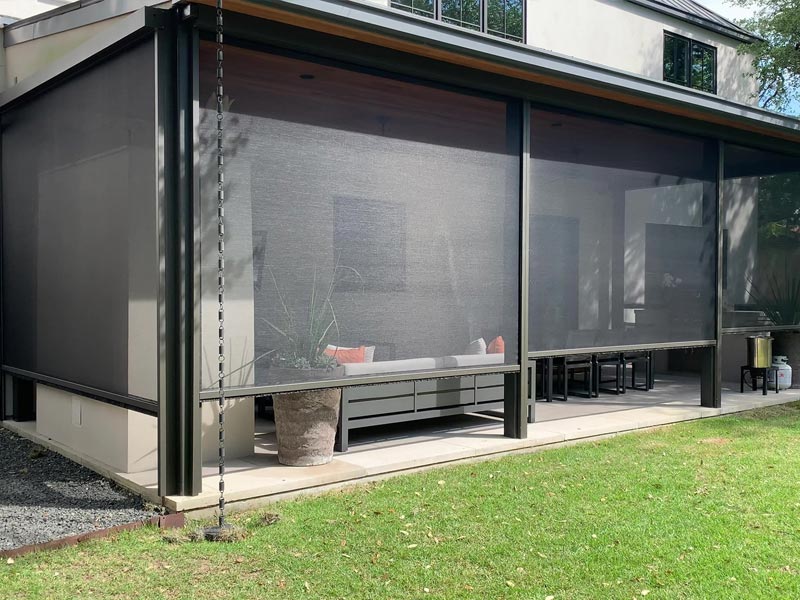 Luxury privacy walls and privacy screens make an attractive addition to any outdoor pergola, patio or terrace. In addition to offering an increased sense of seclusion and safety, privacy walls and screens create a sense of intimacy and a more inviting environment for friends and family. Other benefits associated with outdoor privacy walls and screens include:
Retractable Screens and Glass Walls:
Protection from the Elements – Including blanching UV rays, rain, sleet and hail.
Pest Obstruction – Keep bugs and other intruders and bay.
Wind Resistance – High-end screens can tolerate up to 120 km/hr winds.
Remote Access – Luxury retractable screens operate at the touch of a button.
360° Capabilities – Increase comfort without sacrificing your view.
Unique Designs – Decorative powder-coated metal screens offer privacy and shade.
Weather Resistant – Stands up to weather damage, corrosion and rust.
Flexibility – Install high-end aluminum privacy screens anywhere you see fit, and pair multiple screens to suit your space.
Low-Maintenance – No need for paint, sanding or staining and easy to clean.
6. Add an Outdoor Kitchen and Dining Space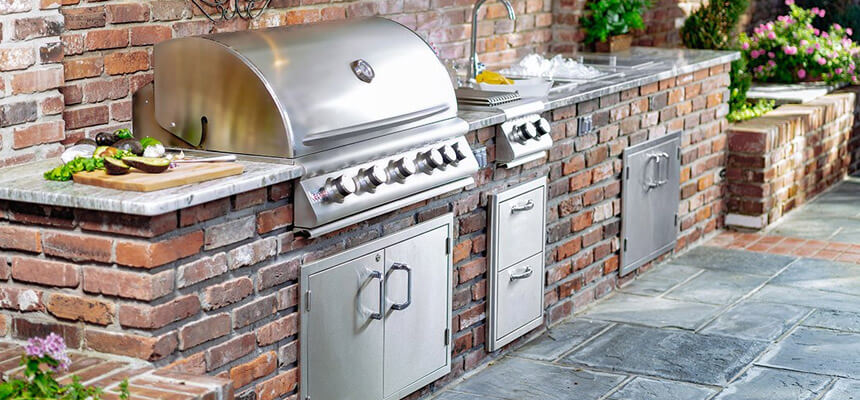 Nothing beats a high-end outdoor kitchen when it comes to connecting with friends, family and neighbours. An entertainer's dream, fully-equipped outdoor kitchens can provide everything you need to spend more time outdoors, make memories with loved ones and prepare gourmet meals al fresco. For a truly elevated outdoor dining experience, customizing your outdoor kitchen area with the right cooking units, storage cabinets, and accessories is key:
7. Create Warmth
An essential component to extending your time outdoors, the right outdoor heating solutions will keep you comfortable during summer evenings and throughout Edmonton's cooler seasons. Fire tables and versatile patio heaters come in all shapes, sizes, capacities and profiles, allowing them to be easily added to any outdoor space. Patio heaters, in particular, are in high demand, with output options ranging from natural gas and propane to electric and infrared.
8. Get Comfortable With High-End Patio Furniture
Awkward and uncomfortable outdoor seating has a negative impact on any high-end outdoor space. In addition to deterring guests, ill-suited patio furniture will affect your space's form and functionality.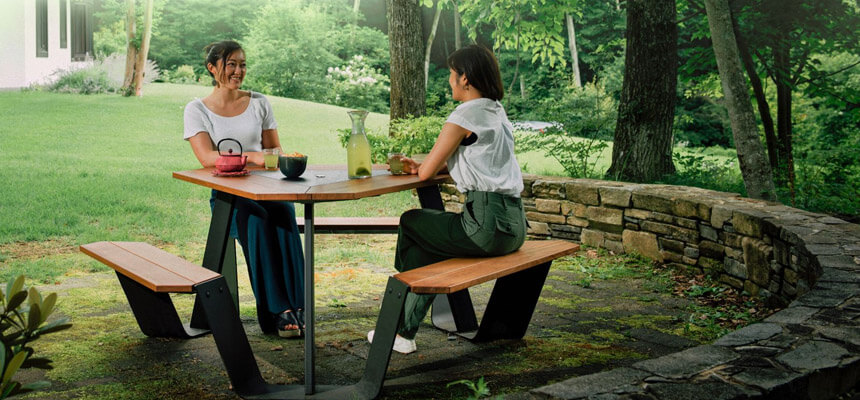 Make and materials are also necessary considerations when it comes to furniture maintenance and longevity. Belgian-designed wooden and aluminum patio furniture maintains an outstanding reputation for their modern and comfortable aesthetic, storage capacity, durability and lightweight qualities.

Uninspired by the ordinary? Redefine your outdoor oasis, and experience luxe living with Northern Shades. Contact us or visit our new state-of-the-art showroom today to learn more.