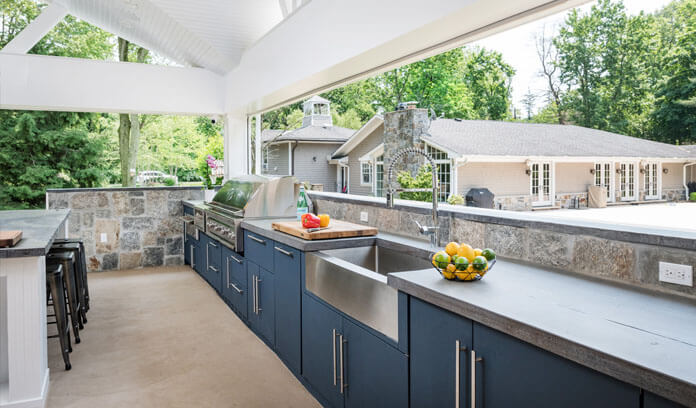 The right tools and accessories are essential when designing and personalizing your perfect outdoor kitchen. Not only will high-end outdoor equipment add aesthetic appeal to your space, but they'll also enhance your outdoor experience with their convenience, durability and ultra-functionality. If you've been considering a luxury outdoor kitchen for your Edmonton home, here are four key items to consider.
High-Performance Grills
Premium grills are an absolute must for any outdoor luxury kitchen space. For this reason, we recommend going above and beyond your typical outdoor barbecue by opting for a high-quality model that will deliver on versatility, durability, convenience and features. Here's what to look for:
Size: Consider your grill size when designing your luxury outdoor kitchen. If you have a large family and/or like to entertain, a larger grill will allow you to prepare more food simultaneously.
Material: 304 stainless steel grills are known for their longevity and corrosion resistance. In particular, premium brands such as Coyote, Jackson, Black Earth and Twin Eagles grills are celebrated for their sleek appearance and ability to withstand the most volatile temperatures. 
Versatility: Besides different heat zones (allowing you to cook multiple foods simultaneously), invest in an outdoor grill incorporating flexible features such as a rotisserie, smoker box or flavourizer. Consider varying grill styles, like pellet and charcoal smoker grills.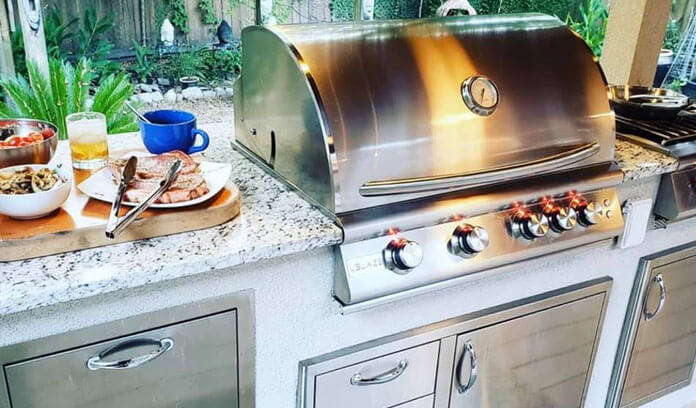 World-Class Cabinetry
Quality outdoor cabinetry units like those offered by Urban Bonfire are essential for adding form and functionality to your luxury outdoor living space. Marine-grade aluminum units are rugged and lightweight while providing long-lasting quality. You'll also want to opt for units that come with customization capabilities (i.e. different coloured finishes, hardware, and various accessories such as planter boxes) so you can tailor them to your unique space.
A sturdy foundation, universal track system (easy customization and cabinet usage) and an integrated backsplash system will also elevate your outdoor kitchen storage space.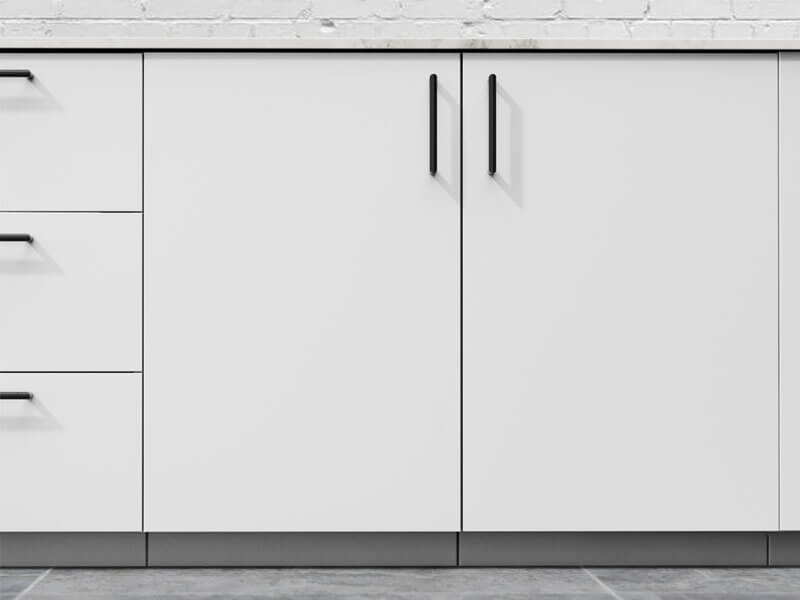 Functional Appliances
Outdoor appliances add a convenient, upscale component to any outdoor kitchen. For instance, an outdoor fridge will allow you to keep meats, veggies, and other foods close by for easy preparation. You may also keep things cool by opting for an outdoor icemaker or drop-in beverage cooler.
Speaking of beverage coolers, what better way to keep family and guests refreshed than by incorporating a deluxe outdoor cocktail center? These ultra-sturdy units often contain everything you need to channel your inner bartender, including an ice chest, sink and tap, bottle boots, cutting boards and more.
Other high-end outdoor appliances to consider for your luxury outdoor kitchen space include:
A Smoker – Smokers are a great way to add diverse flavour to any barbecue. Products such as the Coyote Asado Ceramic provide smoke, grilling and searing options and are ideal for feeding many at once.
A Pizza Oven – Besides homemade pizzas al fresco, top of line outdoor pizza ovens also allows you to bake side dishes, seafood, desserts and much more.
An Outdoor Kitchen Sink – Avoid the inconvenience of shuffling dirty dishes to and from the house by including an outdoor sink.
Side Burners – Side burners are perfect for side dishes, soups, sauces, boiling water, and other non-grill-related items.
Warming Drawers – Warming drawers allow you to keep larger quantities of food and/or pre-cooked to temperature until you're ready to serve.
An Exhaust Hood – While it may seem unnecessary for the great outdoors, exhaust hoods prevent fumes from affecting your outdoor living area and guests.
A Dry Pantry – Dry pantries are perfect for stocking non-perishable food items like grilling spices and rubs, oils, sauces and even dishes.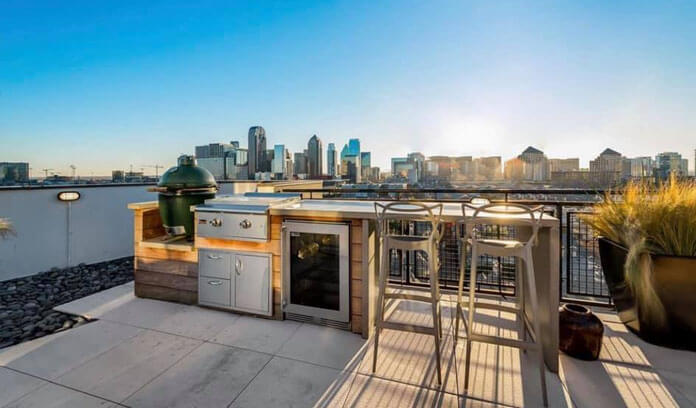 Superior Accessories
Outdoor cooking is more than just a hobby; it's a lifestyle. Harmonize the look and style of your sleek new outdoor space by pairing it with the right accessories from sophisticated brands such as OFYR. Exclusive products such as corten islands with tweak wood chopping blocks, Mise en Place tables, tabletop grills and ergonomic cooking utensils will make an elegant addition to your outdoor kitchen.
To complete the space, consider incorporating additional ambience-invoking accessories, such as:
Outdoor Heating – Enjoy your outdoor kitchen longer with the right patio heating solutions. Popular selections include portable gas and electric heaters to infrared options.
Outdoor Lighting – Of course, outdoor lighting is a necessity for preparing and serving meals. It also helps establish a warm and welcoming atmosphere.
Outdoor Audio – Set the right tone for any outdoor dining experience with the right music.
Custom landscape speakers, bollard speakers and evenly dispersed satellites allow for full and rich sound.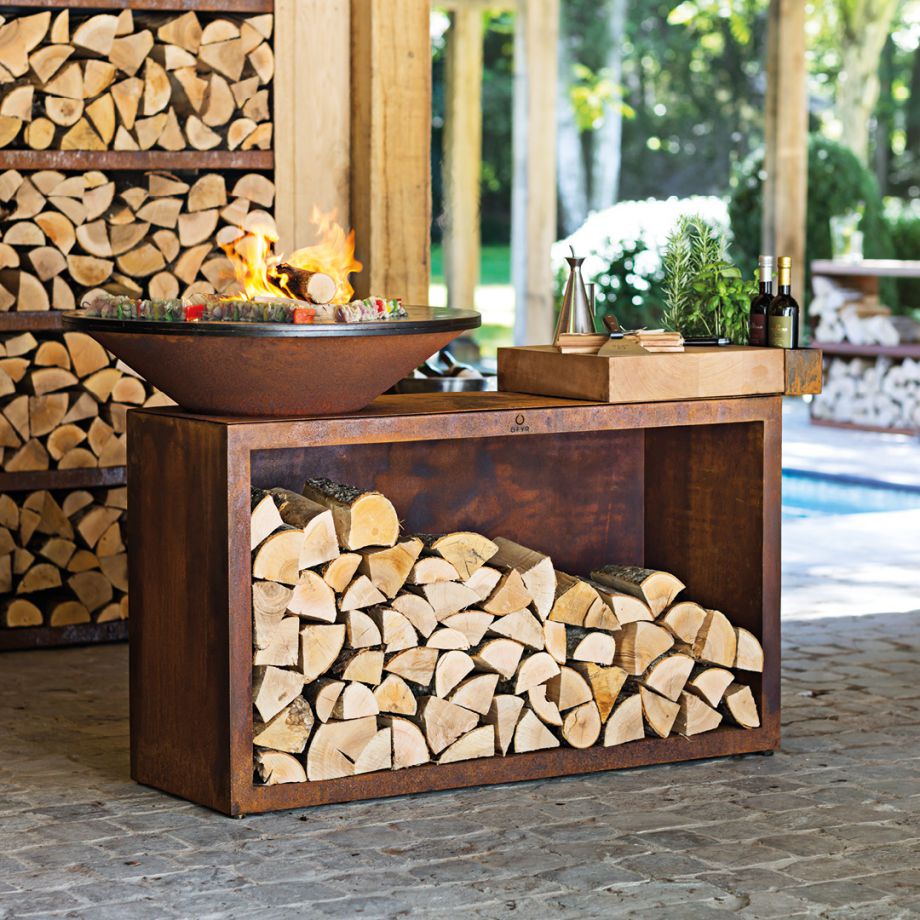 Northern Shades is Edmonton's most trusted luxury outdoor lifestyle provider. If you've been considering a stylish kitchen for your outdoor living space, we invite you to visit our showroom. Not only do we offer an expansive range of premium outdoor living products, but we have the tools and expertise to help you realize your vision.