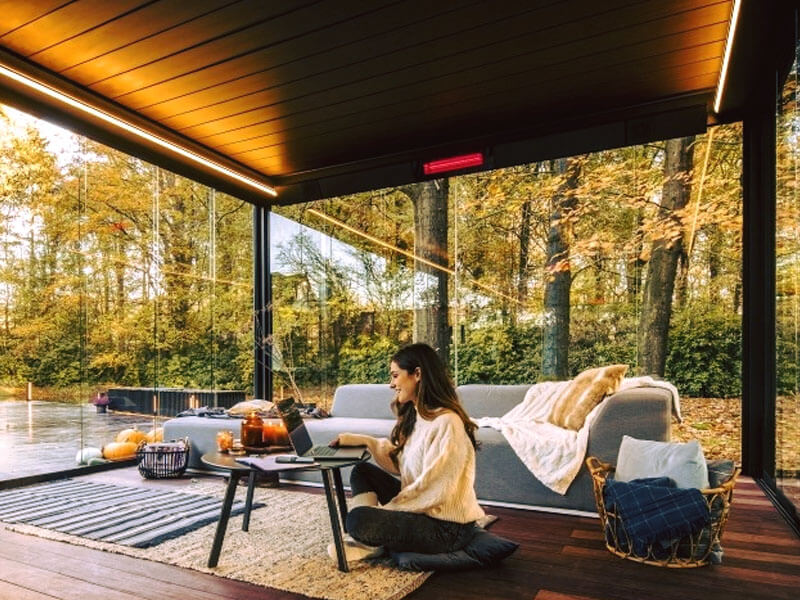 Luxury pergolas are known for their sleek lines, straightforward functionality and high-end appeal. Not only do they create an attractive focal point for decks, terraces and patios, but they also provide welcome protection from the elements and allow you to spend more time outdoors.
But that's not all.

If you want to elevate your luxury outdoor living space, here are five benefits that come from choosing a premium brand pergola.
Extend Your Outdoor Living Space
Luxury pergolas add an elegant extension to your home, allowing you to enjoy more time outside, comfortably. They also draw out and define usable outdoor living spaces, such as decks and patios, while providing an easy transition from indoors to outdoors. Incorporating comfortable furniture, an outdoor kitchen, retractable glass walls and/or retractable screens to your pergola to create the ultimate backyard retreat.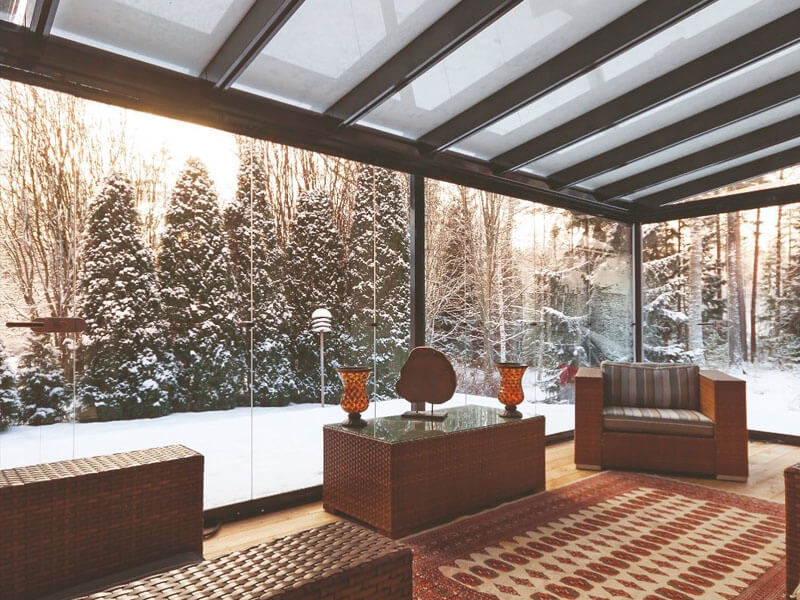 Automated Sun or Shade
The louvered roof systems that accompany most high-end pergolas add functionality and convenience. Their flexible blades can be easily adjusted, allowing you to soak up just the right amount of sun (or shade). In addition, when closed, these systems provide a watertight barrier between you and the elements. Simply put, louvered pergolas will allow you to spend more time outside, come rain or shine.
Boost Your Home's Appeal and Value
Edmonton summers are short. For this reason, additional outdoor living and entertainment space is always at a premium, particularly among home buyers. Luxury pergolas, in particular, can be customized to suit your home's existing architecture, making it a natural extension of your existing home and increasing your property's overall market value.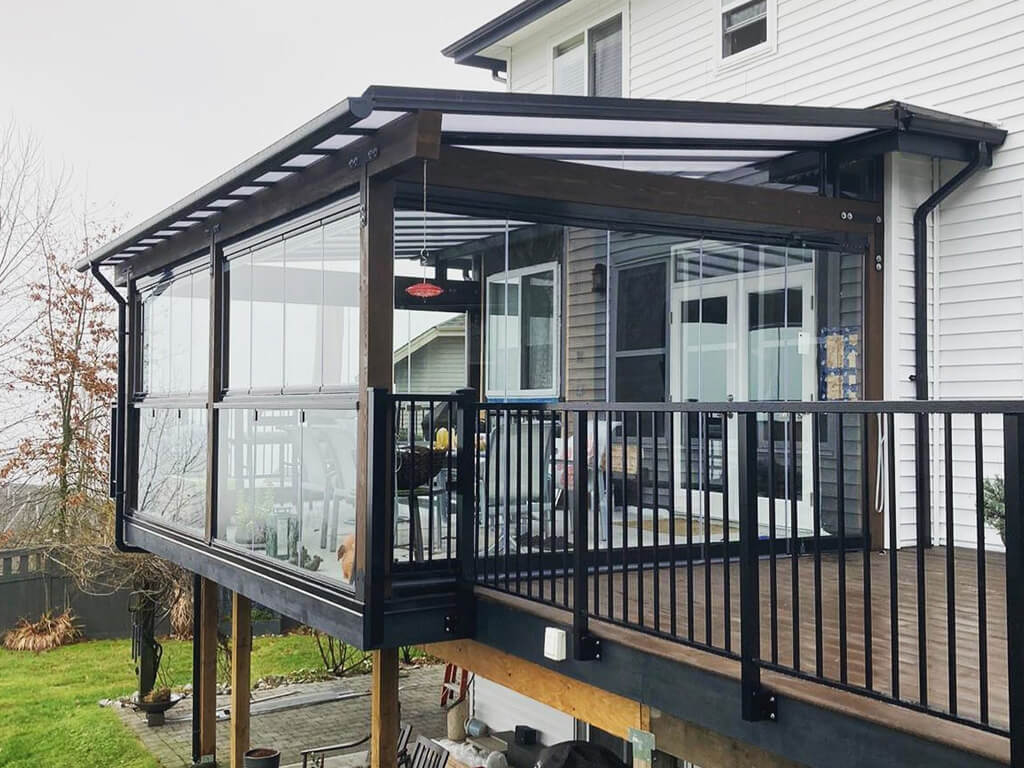 Outdoor Entertaining
Do you love to entertain? Sophisticated and inviting, louvered pergolas make the ideal outdoor venue. From dinner parties and family barbecues to wine tastings and game nights, pergolas provide endless opportunities for spending time with loved ones in a comfortable outdoor setting. Add quality deck and patio screens for increased privacy and shading while you entertain, or incorporate retractable glass walls to enjoy your outdoor entertainment space year-round.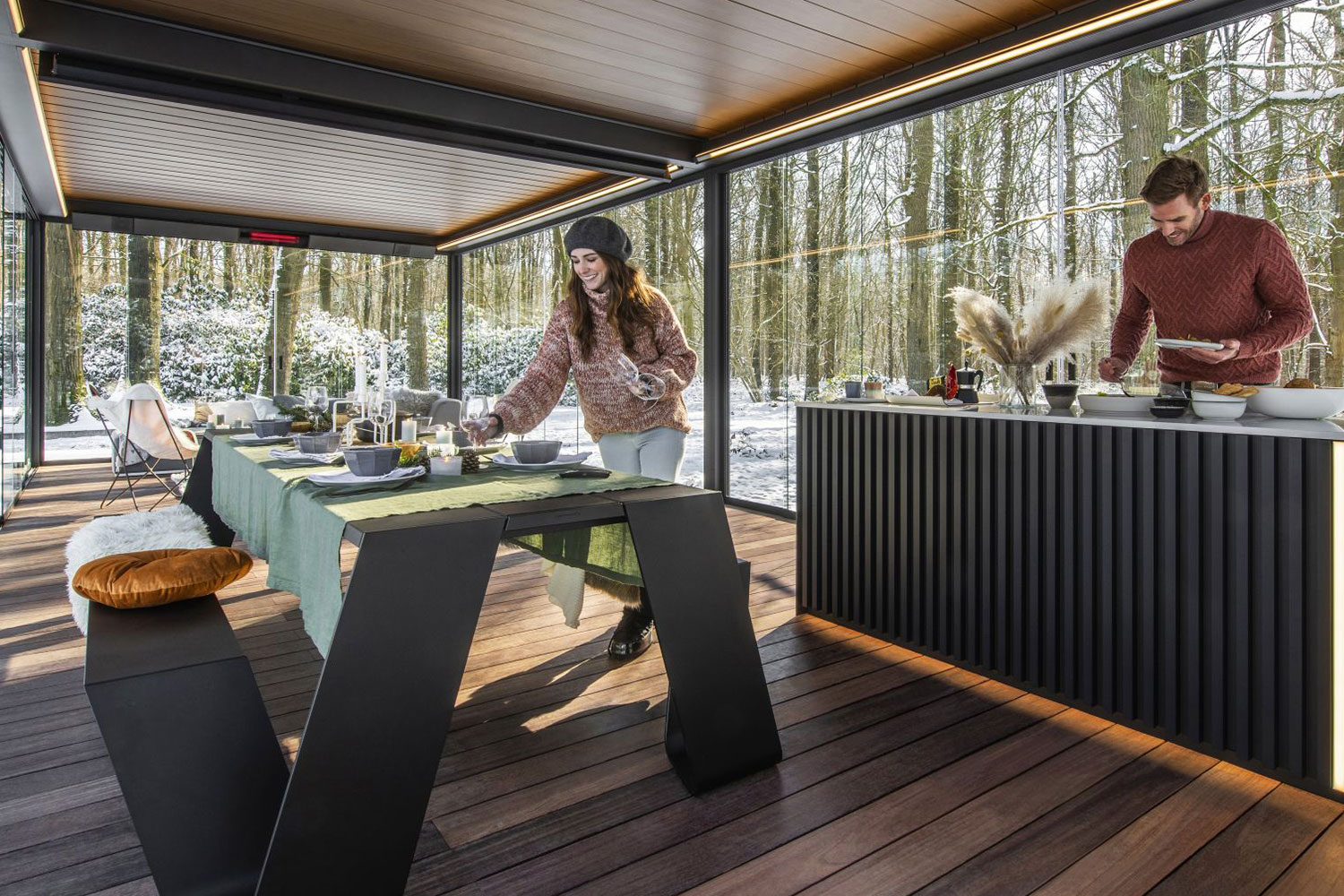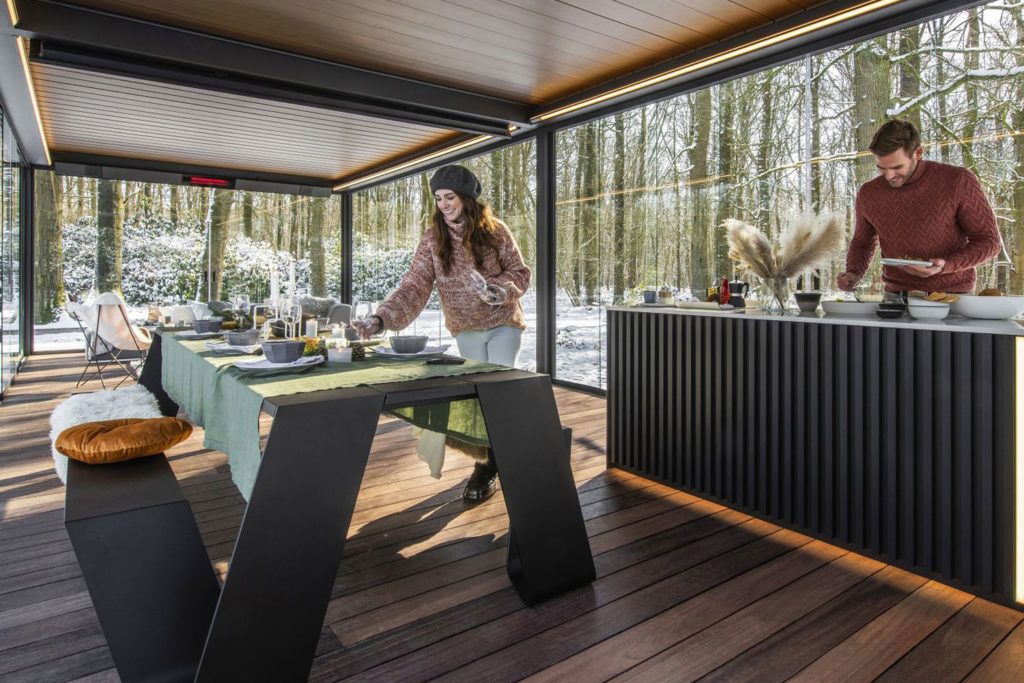 Customize As You See Fit
Luxury pergolas come in a wide range of sizes and styles. For example, upscale models such as the Renson Algarve, Renson Camargue and Stobag Bavona come with various customization options that include attached or freestanding capabilities, decorative frames, colours, fabrics and accessory choices;
Renson Algarve: Built with Edmonton weather in mind, the Renson Algarve is highly durable when it comes to wind, rain and snow. Equipped with a louvered roof system, the Algarve is completely waterproof when closed and allows you to adjust for sun and shade when open. Thanks to customization capabilities, it is also one of the most versatile luxury pergolas on the market.
Renson Camargue: Smooth and stylish, the Camargue is a Belgian-designed luxury pergola known for its versatility and modern aesthetic. Like all premium pergolas, the Camargue comes with remote-operated louvered roof capabilities and optional add-on accessories such as rain sensors, frameless glass walls, LED lighting and more.
Stobag Bavona: The Stobag is a Swiss-engineered louvered roof patio cover and pergola ideally suited for decks, terraces, gardens and more. The Stobag's frame and louvered blades are powder coated to match your home, and moveable wall elements and retractable shading can be included for maximum comfort and privacy.
Northern Shades is Edmonton's highest-rated luxury pergola provider. Our vast selection of premium outdoor products and accessories, combined with our exclusive one on one design process, has made us the go-to choice among the most discerning buyers. If you're considering purchasing a premium pergola for your outdoor living space, we invite you to contact us or visit our state-of-the-art showroom for more information.